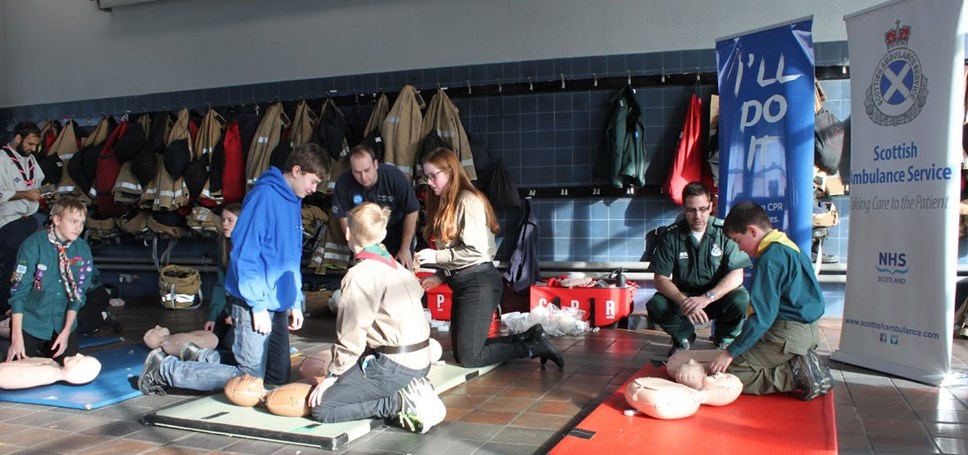 Defibrillator appeal for Restart a Heart Day
The Scottish Ambulance Service has today issued an appeal for more members of the public to learn vital CPR skills to mark Restart a Heart Day.
The Service has also called for all Public Access Defibrillators (PADs) to be registered to maximise the chances of patients surviving a cardiac arrest.
"The chances of surviving a cardiac arrest are vastly improved the sooner CPR starts; increasing the pool of people with these skills means it's more likely your average bystander has the skills to step in and start saving someone's life before a trained ambulance crew arrives," said Dr Jim Ward, Medical Director at the Scottish Ambulance Service.
Around 3,500 patients a year suffer a cardiac arrest in Scotland's communities every year. Public Access Defibrillators (PAD) are commonly located in shopping centres, gyms, community halls, supermarkets, and GP and Dental surgeries. When used quickly they are proven to have the potential to save someone's life. These devices can be used by anyone and do not require medical training.
Dr Ward added: "When someone rings 999 one of our call takers will ask some very short simple questions in order to determine the immediate priority of the call and give any additional advice that may be required while the ambulance crew are on their way. During this process the call taker will rapidly be able to determine if a patient is in cardiac arrest and will then advise the caller how to perform CPR.
"Once someone at the scene has started CPR, the call taker will be able to give directions to the nearest public access defibrillator that has been registered with the Scottish Ambulance Service.
"You do not need to be clinically trained to use a public access defibrillator. They work by delivering an electrical shock to a heart that is in cardiac arrest in order to try and restart it. They are safe and easy to use and will only shock someone who needs it.
"Once switched on the PAD provides the bystander with easy to follow voice prompts and advises if a shock is required or not. Bystanders should try to stay as calm as possible and follow the instructions from the PAD while continuing CPR as instructed by the call taker until the arrival of the ambulance."
Each PAD has a volunteer custodian - usually the person who bought or placed it. To ensure the PAD is ready to be used in an emergency, we ask the custodian to carry out a monthly check and inform the Scottish Ambulance Service that this check has taken place.
If a PAD is registered, it makes it possible for our ambulance call takers to locate it and advise a bystander to collect the PAD to use it.
The Scottish Ambulance Service recommends that all custodians register their PADs with the Scottish Ambulance Service at https://pad.scottishambulance.com to ensure that they are available to save lives in an emergency."
If you are interested in learning CPR, visit the Save a life Scotland website for training days https://www.savealife.scot/cpr-training/
Contact Information
Mark Bargon