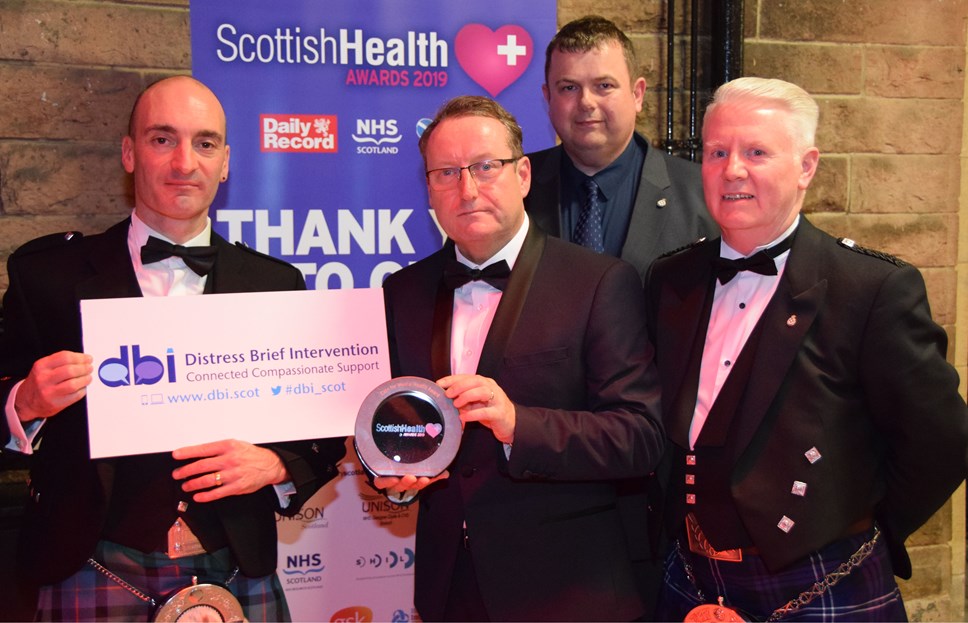 Distress Brief Intervention (DBI) wins award
Well done to the Distress Brief Intervention (DBI) programme team who won the Care for Mental Health Award at this month's Scottish Health Awards.
The Scottish Ambulance Service, Hospital emergency departments (ED), Police Scotland, primary care and third sector staff, were all singled out for their dedication to the programme at Thursday's awards.

DBI provides an 'ask once - get help fast' early intervention for people in distress/emotional pain who do not need emergency medical treatment. The joint initiative is currently being run in Inverness, Aberdeen, Borders and Lanarkshire.

Frontline staff often meet people who are emotionally overwhelmed as a result of issues such as bereavement, relationship, stress, low mood or financial worries. Some of these staff are now trained to help ease a person's immediate distress with compassion, empowered with the knowledge that they can refer the person for community support, which the person will be contacted about within 24 hours.

Steven Gorman, Area Service Manager for Inverness, has been involved with the programme in the North region and attended the awards.

He said: "This is a great milestone for the programme. It recognises alternative supportive options our frontline clinicians can access for patients who find themselves in acute distress in the pre-hospital environment."
National DBI programme manager Kevin O'Neill, dedicated the award to all the staff across all the agencies involved.

Kevin said: "In acknowledging this achievement, we are of course sensitive to the fact our recognition comes from helping those in distress. It is this sensitivity to those in distress that inspires us all to work together to improve the outcomes and experiences of these people when they need help most."

DBI consists of two parts, with part 1 seeing trained front-line ED, police, paramedic, and primary care staff help ease an individual's immediate distress. They then ask the person if they would like further support and if the person agrees, they refer them to the DBI service with a promise of contact within the next 24 hours to start providing further face-to-face support.

Part 2 is provided by commissioned and trained third sector staff who contact the person within 24-hours of referral and provide community-based problem solving support, wellness and distress management planning, supported connections and signposting.
Contact Information
Edward Earl