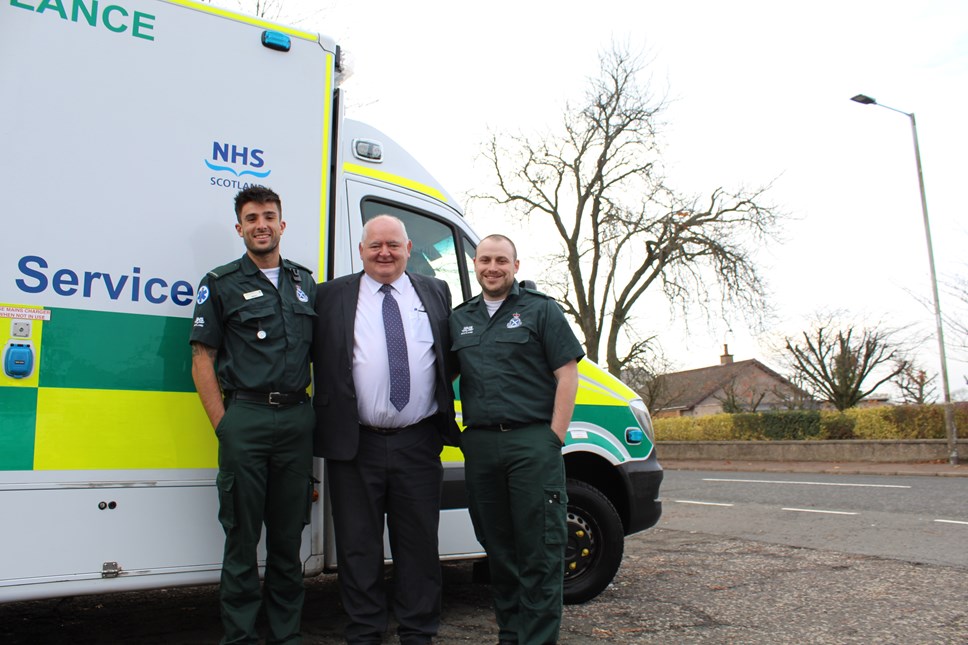 Man who 'died twice' thanks ambulance crew
A company director who 'died' twice has sent a heartfelt thanks to the two Perth emergency responders who brought him back to life.
Matthew Rooney, 59, suffered a heart attack at his Newburgh house before going on to have two cardiac arrests.
The director of Client Liaison KN Group has credited paramedic Nathan Thomson, 25, and technician Paul Marr,28, both based at Perth Ambulance Station, for giving him a second chance at life.
Matthew, aged 58 at the time of the incident, recently celebrated the one-year anniversary of surviving 'dying twice' by going out for a meal with the pair, which he has described as his two "young heroes".
He explained: "I actually died twice and they brought me back. It's incredible - there are no words to describe the feeling of gratitude I feel towards these two boys.
"If not for their knowledge, I would not have survived. It's very rare for someone to have a heart attack and two cardiac arrests – and survive.
"The only way I survived was through the professionalism of Nathan and Paul. I will never forget this as long as I live.
"These two lads, what they did for me, is save my life. I had a very, very slim chance of surviving."
Speaking of the ordeal for the first time, Matthew said: "I had a heart attack on the Saturday morning. I went to my neighbours and they dialled 999. I crawled to my neighbour's house on my hands and knees – I was shouting at them to call an ambulance.
"Once the two guys from the ambulance service arrived, I went into cardiac arrest. Nathan and Paul then brought me back to life using CPR and a defib.
"They stabilised me and brought me into the back of an ambulance. When I was in the ambulance, I went into another cardiac arrest while I was on my way to Ninewells Hospital.
"Paul was driving the ambulance, and Nathan was doing first aid, as he was the paramedic. I then went into the theatre at Ninewells."
Matthew spent two weeks in hospital after the incident on October 21 last year before recovering over the next several months.
He added: "I can't thank them enough for saving my life. If not for Nathan and Paul I would not be having this conversation today.
"It does not matter what anyone else says – they don't realise how important their job is."
He continued: "A lot of people take life for granted but every single morning I thank Nathan and Paul for keeping me alive.
"I thought I was ready to die. I said thanks for your help and I just thought about my granddaughter. I came back around in the back of an ambulance with people standing over me. They brought me back with the defib.
"How can I thank someone who saved your life twice? How can you thank them? I cannot describe how it feels. It's so unique what happened to me – they brought be back when I died twice."
He said his neighbours, Trudy and Alan Gourlay, were also vital and their quick response also helped save his life.
Nathan said: "I remember I was driving this day with Paul Marr, who was a student technician at the time. I had been qualified as a paramedic for four days and I remember getting this chest pain call through and saying to Paul – 'I've got a gut feeling this is going to be a seriously ill chest pain call'.
"We turned up to the address and walking in to see Mr Rooney in care of his neighbours. He looked well; we completed our checks and heart tracing and began to give him the cardiac medication when he went into cardiac arrest in front of our eyes.
"We got him on the floor, I started chest compressions while Paul got the defibrillator pads on and we shocked him. Within 10 seconds, Mr Rooney was sitting up asking where he was.
"We got him out to the vehicle and set off for Ninewells with Paul driving. I remember talking to Mr Rooney, and then all of a sudden he went unresponsive and into cardiac arrest again. I charged the defibrillator and started chest compressions while Paul stopped the vehicle. Another shock and again within 10 seconds later he was alert and talking again. It was very surreal and one outcome I may never see again."
Nathan said after he dropped Matthew off at hospital, he had a sense of relief
He said: "We've kept in contact since that day with various text messages, but a proper catch up was needed so a meal out was perfect. Seeing him looking so well and hearing what he's been doing was great.
"Hearing how appreciative he was for helping is amazing - it's our job but not everyone understands or appreciates what we do and seeing the difference we can make to someone's life is one that I'll never forget."
Contact Information
Edward Earl