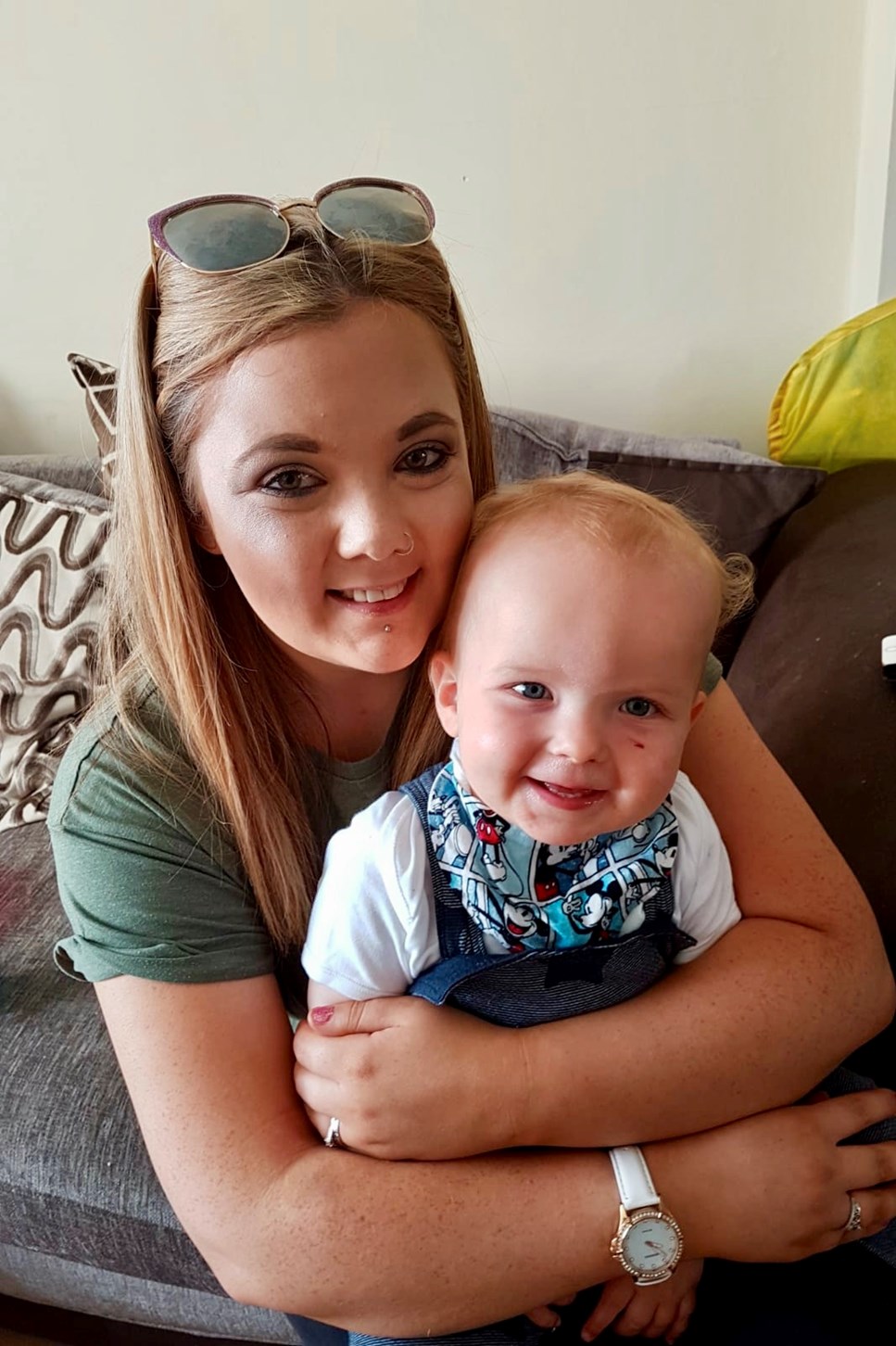 Mum praises Scottish Ambulance Service "angels"
A mum says she will be forever grateful to the Scottish Ambulance Service "angels" who saved her child's life.
Stacey-Marie Cornish, of Greenock, was at home with Finlay, has spoken of the "terrifying" moment she thought her child, aged 13 months at the time, might die.
The 27-year-old said Finlay had been feeling unwell during the day.
Hours later, the child was in a "critical" condition at the Accident and Emergency department at Inverclyde Royal, with Stacey fearing she might lose him.
Stacey, a carer, has today offered a heartfelt thanks to the Scottish Ambulance Service emergency responders who rushed to the family's home, saying she will be "forever grateful".
She explained: "He was struggling to breathe, as he has trouble with bronchitis. We kind of know the signs to look out for while at home.
"I could see he was really struggling, so I phoned an ambulance. His oxygen was really bad and his temperature was over 40C."
An ambulance crew, manned by technician Dean Zielinski and paramedic Jackie Queen, was dispatched from Greenock Ambulance Station by Sharon Young and arrived within minutes of Stacey's initial emergency call, which was taken by call handler Fiona Thompson.
Stacey added: "They stripped him of his things, and got him in the ambulance and blue lighted us to the nearest accident and emergency department."
Stacey and Finlay were taken to Inverclyde Royal, where the youngster's condition was described as "critical" by doctors.
She added: "It was so overwhelming. The doctors at Inverclyde told me it was critical. He was in there for a few hours. Once he was stabilised, he was brought into Queen Elizabeth hospital's children's ward.
"It was terrifying, I just felt helpless. I was with him the whole time. I lay on the bed with him – I did not leave his side. I really, really thought I was going to lose him.
"The crew arrived within minute. It made a lot of difference. I did not think he was that bad, it was only when they put masks on him and everything."
The crew then explained what Finlay's oxygen levels were, with Stacey realising that this "was pretty bad".
She said he was in the Royal Hospital for Children for a few days before he returned home, adding: "It was bronchitis. He's probably going to get asthma, but it's too early to diagnosis.
"He still has problems breathing, but it's whenever he gets a cold, it goes to his chest every single time, every cold.
"He has to be careful of germs – every time he gets a cold, he ends up in hospital. It was terrifying."
Stacey has reached out to the crew who attended on February 13 (2018), describing them as "angels".
She explained: "They stabilized him and took amazing care of him and even when we got to hospital they kept checking in on him.
"Because of their fast actions and quick response my son is here and getting better. I honestly can't thank these angels enough for what they done for our family. I am forever grateful."
Dean said: "As somebody who's quite new to the service of only two years and only recently qualified, personally this one moment of feedback really puts what we do in to real perspective and adds a touch of humanity.
"It literally makes it all worthwhile. It makes all of the regular difficult and very emotional situations bearable, and I'm incredibly grateful for it. I'm glad to hear the little chap is doing well, and we wish our absolute best to both of them."
Contact Information
Edward Earl