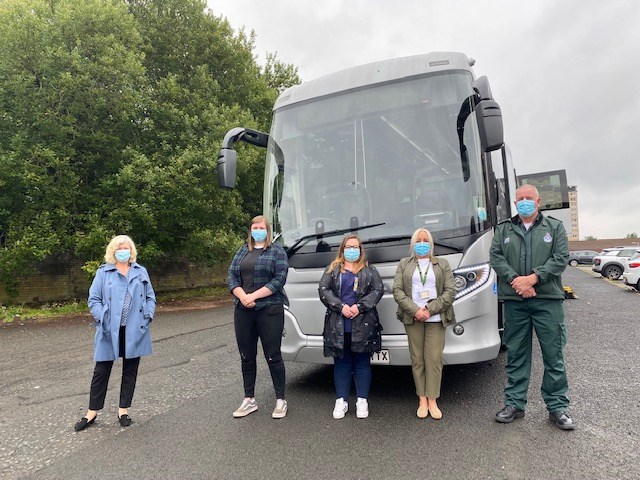 Vaccination bus visits Scottish Border campus
The Scottish Ambulance Service's vaccination bus is visiting Borders College in Galashiels today and tomorrow (Thursday 16th and Friday 17th September) to ensure students have the chance to receive their Covid-19 vaccine.
Working in partnership with NHS Borders, the drop-in vaccination clinic will be located at the college carpark and is open for the local community as well as students of both Borders College, and Heriot-Watt University School of Textiles and Design.
Over the last seven months, the Service has teamed up with health boards and local authorities to support the delivery of the national vaccination programme. There are now three new buses to cover the whole of Scotland – with a bus dedicated to the east, west and north of the country - and one of the key priorities will be to ensure that students are able to access vaccines.
The Scottish Government has provided new funding for the buses, in order to improve accessibility to vaccine clinics across the country. The vaccination bus will also be targeting students in the west, and there will be further clinics at the University of the West of Scotland, and Glasgow Caledonian University next week.
Natalie Macdonald, Vaccination Programme Manager at the Scottish Ambulance Service, said: "Our fantastic staff and our close working with Scottish Government, Health Boards and local authorities across Scotland has meant we can reach into communities via our mobile vaccination bus to ensure everyone has the chance to be vaccinated.
"With university students set to arrive on campuses across the country, we want to ensure they are protected, so over the coming months our vaccination buses will be located at universities and campuses to ensure every student can protect themselves, and others, from Covid-19."
Nicola Macdonald, Vaccination Programme Manager at NHS Borders said: "We are delighted to work collaboratively with Scottish Ambulance Service to bring the vaccination bus to the Borders. This is another innovative way to offer vaccination to those who haven't yet come forward, in an environment that is convenient for them. If you are 16 or over and in the area, why not pop along to get your first dose, it is quick and easy. If you had your first more than 8 weeks ago you can also turn up to get your second dose, even if you got your first dose in your home town before moving to the Borders for college or university."
Contact Information
Scottish Ambulance Press Office